Gelatin Sheet




Gelatin jelly sheets edible, also called gelatin leaf sheets, it made from animal's bone and skin which contains at least 85% protein, fat-and cholesterol-free and easily absorbed by the body. The best quality gelatin sheets made from bone gelatin, which is no smell and with good jelly strength.




Clear gelatin sheet works like granular gelatin found in your local grocery store but in a different form. Rather than food gelatin powder, it takes the shapes of thin sheets of leaves of gelatin film. The fine gelatin leaf sheets dissolve more slowly than the granulated form, but also produce gelatin sheets for baking.

Email Us
Specification of Clear Gelatin Sheets
Grade

Bloom

N.W.
(g/sheet)

N.W./BAG

Packing Detail

N.W./CTN

Carton Size (mm)

Gold

220

5g

1KG

200pcs/bag, 20bags/carton

20 kgs

660*250*355mm

3.3g

1KG

300pcs/bag, 20bags/carton

20 kgs

660*250*335mm

2.5g

1KG

400pcs/bag, 20bags/carton

20 kgs

660*250*395mm

Silver

180

5g

1KG

200pcs/bag, 20bags/carton

20 kgs

660*250*355mm

3.3g

1KG

300pcs/bag, 20bags/carton

20 kgs

660*250*335mm

2.5g

1KG

400pcs/bag, 20bags/carton

20 kgs

660*250*395mm

Copper

140

5g

1KG

200pcs/bag, 20bags/carton

20 kgs

660*250*355mm

3.3g

1KG

300pcs/bag, 20bags/carton

20 kgs

660*250*335mm

2.5g

1KG

400pcs/bag, 20bags/carton

20 kgs

660*250*395mm
Grade

Bloom

N.W.
( g/sheet )

N.W./BAG

Packing Detail

N.W./CTN

Carton Size (mm)

Platinum

230

2g

1KG

500pcs/bag, 20bags/carton

20 kgs

660*250*355mm

Gold

200

2g

1KG

500pcs/bag, 20bags/carton

20 kgs

660*250*355mm

Silver

160

2.5g

1KG

400pcs/bag, 20bags/carton

20 kgs

660*250*395mm

Copper

140

3.3g

1KG

300pcs/bag, 20bags/carton

20 kgs

660*250*335mm

Titanium

120

5g

1KG

200pcs/bag, 20bags/carton

20 kgs

660*250*355mm
Production Process of Clear Gelatin Sheets
Advantages of Clear Gelatin Sheets
1. The First Gelatin Sheet Manufacturer in China
2. Our raw material for gelatin leaf sheets come from Qinghai-Tibet Plateau, so our products are in good hydrophilicity
3. With 2 GMP clean factories, 4 production line, our yearly output reaches 500 tons.

4. Our "Delici" jelly sheets edible strictly follow the GB6783-2013 Standard for Heavy Metal which the Index: Cr≤2.0ppm, lower than EU standard 10.0ppm, Pb≤1.5ppm lower than EU standard 5.0ppm.
How To Use Gelatin Sheets for Baking
Basic steps for using gelatin sheets:
1. Soak sheets of gelatin in a bowl of cold/iced water for 5 to 10 minutes. (Use about 1 cup/250ml of cold water per sheet)
2. Once soft, lift sheets from the cold water.

3. Add leaf gelatin sheets to room temperature liquid called for in the recipe. Heat the mixture, stirring until the gelatin is dissolved.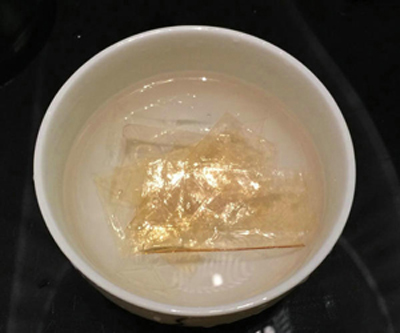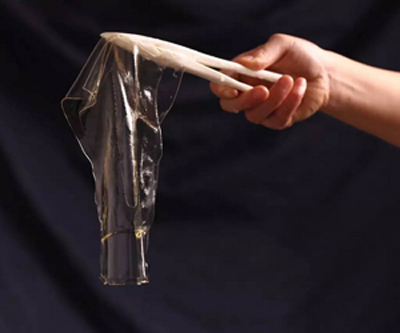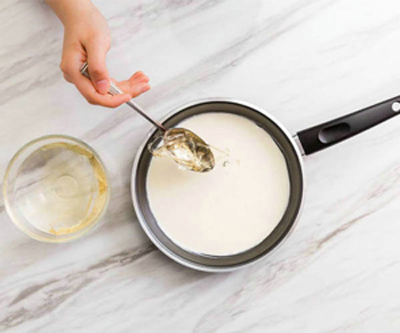 Test Standard of Clear Gelatin Sheets
Test Item

Standard

Inspection Result

Appearance

Yellowish to yellow sheet

Yellowish to yellow sheet

Moisture

≤14.0%

13.00%

Ash Content

≤2.0%

0.60%

Jelly Strength

≥50Bloom g

213

Transmittance

450nm

≥30%

71.9

620nm

≥50%

91.1

Insoluble Substance

≤ 0.2%

<0.2%

Sulfur Dioxide

≤30ppm

6

Peroxide

≤10ppm

Negative

As

≤1.0ppm

<1.0

Cr

≤2.0ppm

<2.0

Pb

≤1.5ppm

<1.5

CFU/G

≤10000CFU/g

<10

Salmonella

Negative

Negative

MPN/g

≤3MPN/g

<3MPN/g