Who says fruit kebabs have to be boring? These banana fruit kebabs make for some healthy snacking for both you and your guests. And eating more fruit is always good for your health! These fruit kebabs are a fun twist on the classic banana slices and offer a delicious way to serve up a variety of fresh fruit. Made up of strawberries, pineapple, and banana on a stick, they're easy to transport or store, making them great for serving at parties or picnics. With our hot pot service style, they're sure to be a hit with your guests like you've never seen before!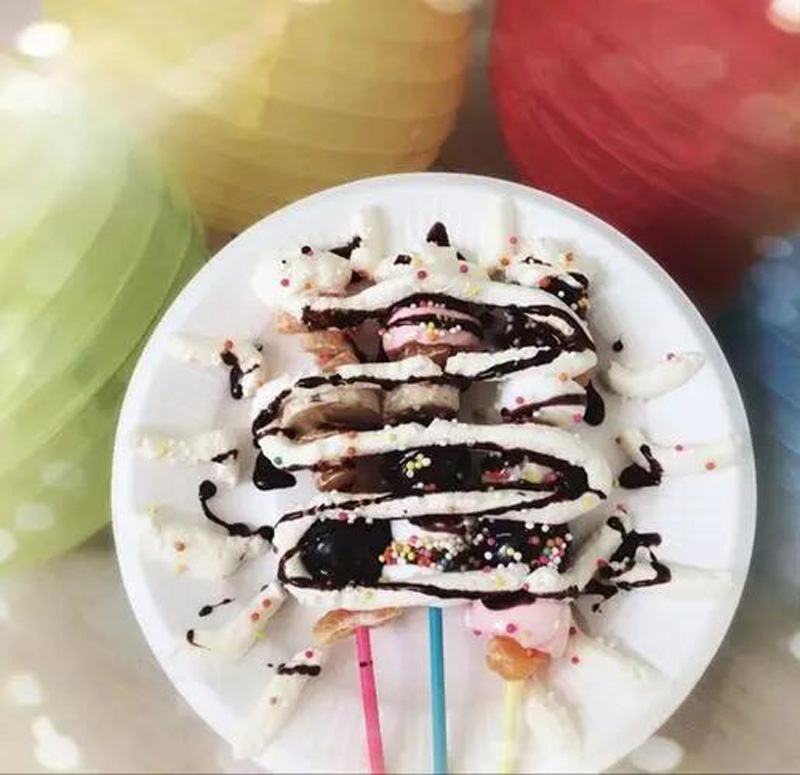 1. Sprinkles fruit kebab recipe: ingredients and preparation
Ingredients: Fresh fruit of your choice (for this recipe tutorial, we've used strawberries, pineapple, and banana); almond bark for dipping (candy melts work too!); cake bread or baked cake squares (dense cake works best); whipped cream or white icing; sprinkles for topping.
How to make Fruit Kebabs? Steps to make Fruit Kebabs: If necessary, cut the fruit and cake into pieces - 1 to 1.5 inches is perfect. Starting with the pointed end of the skewer, place the fruit and cake on the kebab stick in the desired order. When finished, place on a plate and get ready to serve. Pile whipped cream or icing on top of the cake already skewered. Sprinkle the prepared sprinkles over the top evenly; in another plate, melt dipping chocolate sauce, stirring until completely melted, and immediately place on the plate so the icing doesn't melt and the chocolate doesn't harden. Serving this dessert is simple, just grab a fruit kebab and enjoy! You'll find it even more delicious than real barbecue kebabs and very healthy too.
2. Sprinkles fruit kebab recipe: choosing your sprinkles
Prepping this dessert is not complicated and does not require much advanced preparation. This simple dessert idea actually only takes a few minutes to complete. Changing up the theme for different party themes and holidays, this is definitely our top party creative idea. If it's Christmas, you can make different choices for sprinkles, choose Christmas-related star sprinkles and so on. If it's Halloween, if you want a scary atmosphere, use our skull sprinkles, gravestone sprinkles, and so on. If it's Children's Day, you can use cute fruit-shaped sprinkles, such as strawberry sprinkles, watermelon sprinkles, etc. Do you like this simple dessert idea for our hot pot fruit kebabs? Give it a try!