An edible food pen is a delightful tool that will help you create beautiful designs every time! This is one of the fun and easy-to-use tools for cake decorating. It is a good option for beginners, but you will find many individuals with advanced skills using them too. This is because they have discovered the value of a great edible marker pen and how to incorporate it to get the design or writing they desire for a cake!
The value stems from finding a quality edible pen manufacturer you can count on! Sadly, many of these products don't work well! I have seen people get upset, thinking they did something wrong when using an edible pen to design a cake. In reality, the edible food pen manufacturer failed to create a product that worked like it claimed it would!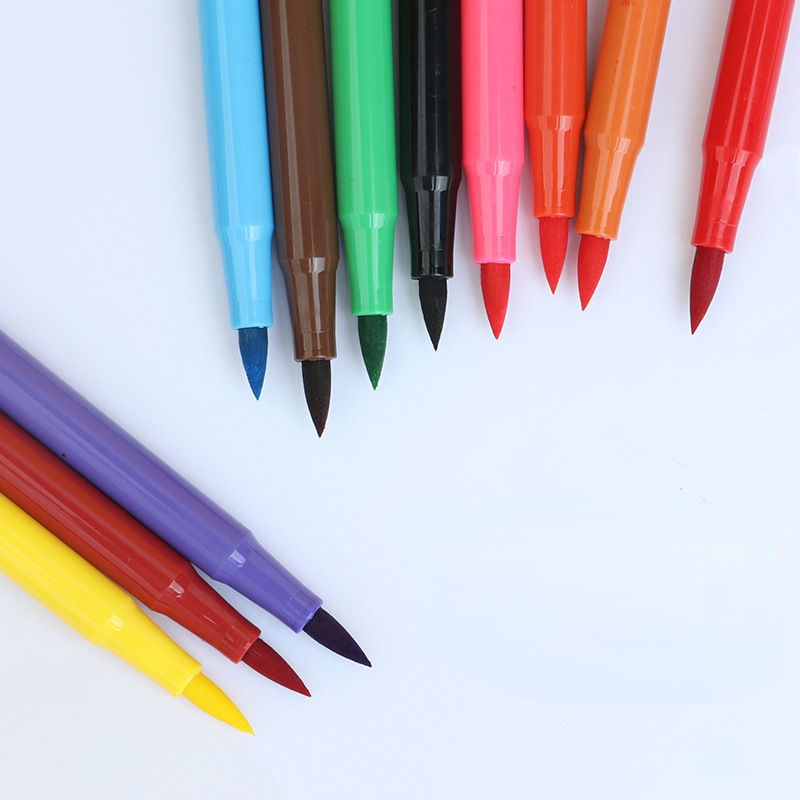 In this article, I will share with you some tips on how to use an edible pen. I think you will find it is a fast and effective way to create cakes you never dreamed you would do on your own! It gives you the freedom to explore new options and get creative. Edible pens are a great resource for beginners. I took on projects beyond my skill level when I started out, and it was a disaster. I was ready to give up as it shook my confidence.
Discovering edible pens was a game changer in my eyes! It gave me something I could easily control with my hand. I still use it over tips and piping bags to this day when I can. Not only is it faster and less of a mess, but I feel that the writing looks more appealing. It allows me to add personal touches but it doesn't take much time to complete.
Some of the tips I will share with you include:
· Finding a quality edible pen supplier
· Stencils and designs
· Practice before you use it on a cake
· Expand your cake-decorating skills with an edible pen
· Doesn't work on royal icing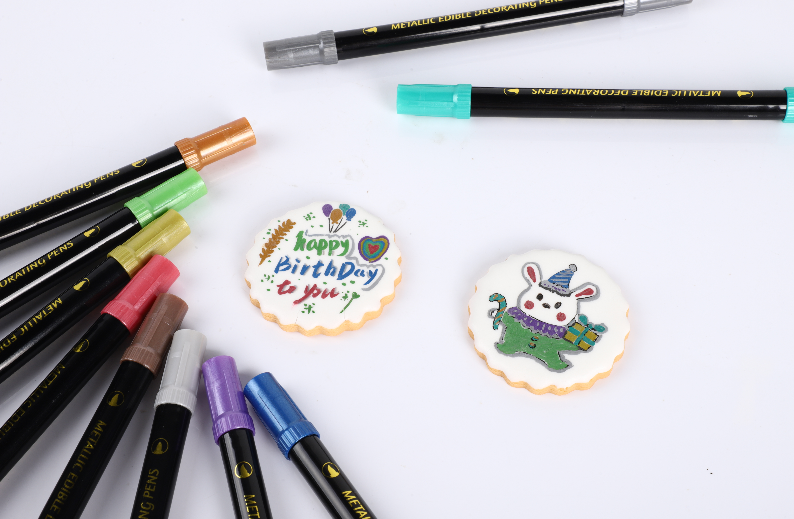 Find a Quality Edible Pen Supplier
As an edible pen supplier for more than 15 years, Bakerydeco is a quality product you can count on. That speaks volumes about the products. After all, we couldn't still be in business if they didn't have a quality product for people to purchase. We have a 2000+n2 factory where these products are created. I encourage you to read reviews about products before you buy them.
Read information from consumers using edible pens. What did they like the most about the product? What did they hate about it? Would they buy it again? Was it easy to use or difficult? The more details you have before you make a purchase, the better the outcome. You can rule out products that aren't among the best. You don't have to buy the most expensive edible pen either to achieve excellent results!
I have discovered buying a set of them gives me flexibility. I can easily reach for the color of the edible pen I want. With many of my designs, I blend a variety of colors into them to bring them to life. I have pastel sets and vibrant colors so I can make it soft or bold in appearance. Sets tend to be cheaper than buying edible pens individually too.
As a tip, make sure you clean any icing off the tips and the lids are on them securely before you put them away. This ensures the edible pens are usable again the next time you get them out. It prevents disappointment when you plan to use a certain color and discover that an edible pen isn't going to work. I want to share with you that edible pens do have an expiration date. Be mindful of that and only buy what you know you will use before that expiration date rolls around.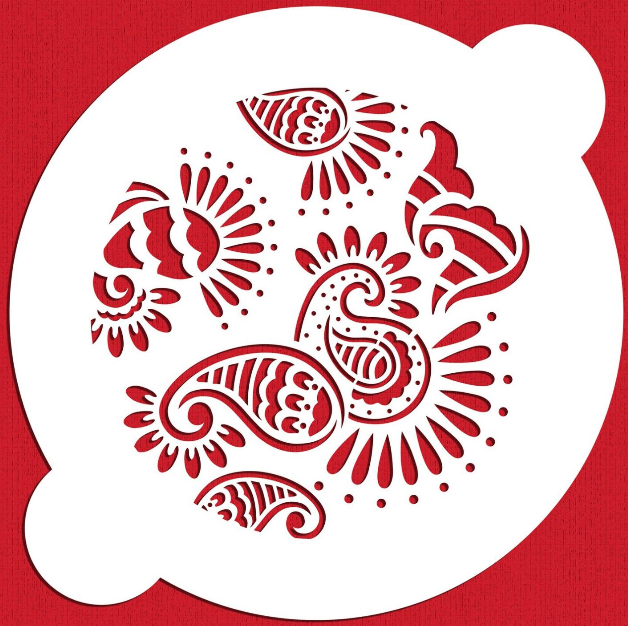 Stencils and Designs
Do you have a specific cake design in mind you wish to create with the use of an edible pen? Stencils and designs are the ideal way to bring this to life! Your finished cake will look professional and delightful! It is something you can be delighted with, yet it didn't take you much time at all. Take your time to explore the various stencils available and the designs you can create with them. They are inexpensive but a huge benefit for any cake decorator!
I use stencils all the time and have a vast collection of them. I keep them in a plastic shoe box so I can access them easily. You can buy them individually or in sets. Place the stencil or design on your cake where you want it displayed. Make sure it is securely in place so it doesn't move around. Take your edible markers and fill in the areas with the colors you desire. When you finish, remove the stencil. Your design will be displayed on the cake. That is all there is to it!
Evaluate the quality of stencils for your designs so they hold up. I like the ones I can wash and reuse again. Others are one-time usage – you toss it when you are done with it. Avoid those made from cheap materials because the item can tear or get damaged while you use it. This can distort the overall image you create with the edible pens.
Practice before you use it on a Cake
I suggest you practice using edible pens on paper or cardboard before you use them on a cake. This gives you time to learn about how much pressure to apply, the flow of the ink, and other details. Otherwise, you risk ruining your cake and it is too late once you have the edible pen on your icing. The only solution would be to scrape it off and redo it. That is both expensive and time-consuming.
It won't take much practice with an edible pen before you feel confident enough to use it on a cake. I found this to be the perfect way for me to feel confident and excited to create the design on a cake using this type of technique.
Make sure your surface has a chance to stiffen before you use an edible pen on it. Don't rush it, this process can take at least an hour or two with fondant and marshmallow products. If you live in a region with high humidity, it may take up to 4 hours. Give yourself plenty of time so you aren't in a rush to get the writing done.
I generally bake my cake and put the fondant or marshmallow on it on the first day. I allow it to dry overnight and then add my edible pen work the following day.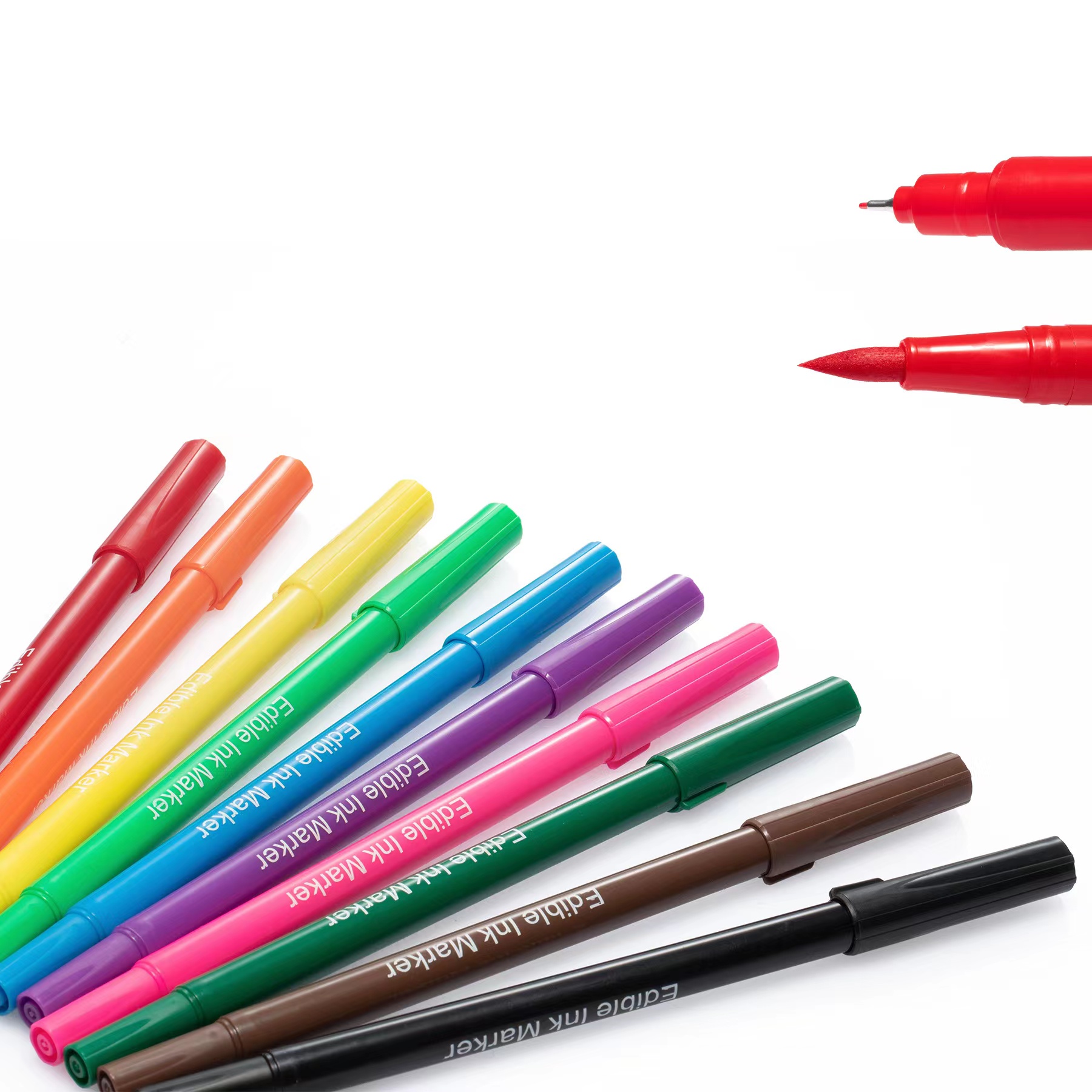 Expand your Cake Decorating Skills with an Edible Pen
For me, using an edible pen for the first time on a cake was an eye-opening experience! It gave me a doorway to explore my creative side and try something new. I am not the most talented or artistic person, but I love to decorate cakes. Stencils and edible food pens give me the freedom to try something new.
Truth be told, your cakes will look like you spent hours decorating when you didn't! You can expand your cake-decorating skills using an edible pen. I thought it would be something I used occasionally, but I quickly discovered it was a perfect way to get my cakes looking amazing! Sometimes, that is all I decorate with. Other times, the edible pen gives me a way to add additional details with ease.
Be creative with the use of an edible pen, there are so many ways to use them! This includes:
· Coloring
· Drawing
· Heming
· Writing (on cookies, fondant cakes, bread, and macarons)
Doesn't Work well on Royal Icing
I want to share this very important tip with you about using edible pens! They don't work on royal icing! I learned this the hard way; Thinking I would use the pens to write on cookies I made with royal icing on them. I had to scramble to come up with something I could put on them instead of what I planned to write on them.
Typically, trying to use an edible pen on royal icing will result in ink bleeding. This is what happened to me, and it was messy! I can laugh about it now, but I was very upset at the moment when it happened. It was a lesson learned, and a tip I pass on to anyone that will listen!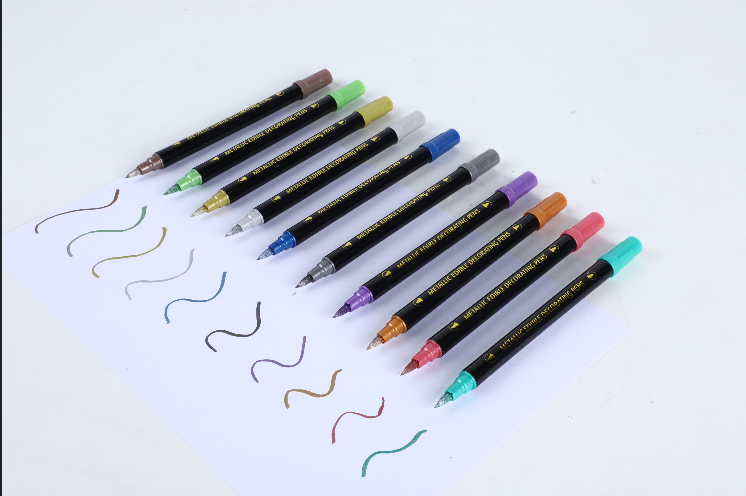 Conclusion
A quality edible food pen is an accessory you should have readily available. Some of them are used with food coloring and you dip it into the color you wish to use. Other coloring pens are a given color, and you use that when you want that color on your cake. I prefer the marker type because they are simple to use and store. Have fun with stencils and designs, practice decorating on paper before you use the edible pen on a cake. I have found using an edible food pen has made cake decorating more enjoyable for me. I get lots of compliments on my cakes too!